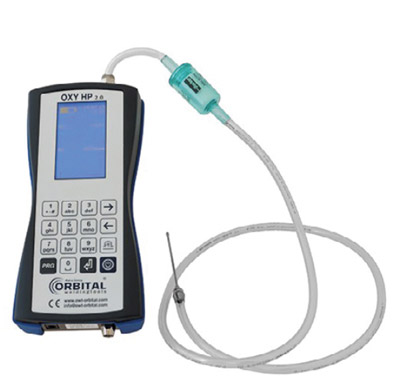 Oxygen analysers like the OXY HP 2.0. are small, mobile and practical. Use them to ensure the quality of your welds.
Rely on our residual oxygen measuring devices for TIG welding!

In tungsten inert gas (TIG) welding, oxygen is generally undesirable in the shielding and forming gas atmosphere.
The tungsten electrode used to generate the arc is surrounded by an inert or forming gas, usually argon.
Too much residual oxygen in this shielding gas atmosphere can lead to problems, as it can react with the tungsten of the electrode and damage it.
or weaken the weld by oxidation, making it unusable. Residual oxygen meters, such as the OXY HP 2.0. from our range,
detect oxygen in the shielding gas atmosphere even in the smallest residual quantities - and the measuring device can be used at the same time to control the oxygen content in the welding process.
The maximum permissible oxygen content in the shielding gas atmosphere for TIG welding is usually 20-30 ppm.
At higher oxygen concentrations, even small deviations in the shielding gas composition can lead to undesirable effects.
These often manifest themselves in bluish or golden discolorations in the area of the welds, which then usually prove to be of inferior quality.
In order to determine the oxygen content within a pipe before starting the welding program, it is recommended to use
our OXY HP 2.0 residual oxygen meters with the scale: PPM (parts per million). These provide highly precise measured values.
Residual oxygen measuring devices that reliably map even the smallest amounts.
The OXY HP 2.0. from our range can map a measuring range of 5-999 ppm and extracts the remaining oxygen content from the inside of the pipe to be welded.
You can set your desired ideal value individually in advance - our OXY then works automatically until this limit value is reached,
Only then does the actual welding process start. To prevent the penetration of further oxygen from the ambient air, you must close the pipe during the entire process using suitable forming plugs, which are of course also available from us.


Coupling orbital welding and residual oxygen measuring instruments for perfect teamwork
For residual oxygen measurement, the OXY HP 2.0. can be coupled with any of our orbital welding devices. When you then set your desired ideal value
the rest will run as if by itself. All processes are also automatically stored in the welding documentation. However, the device can also be attached to any other pipe section to be formed for manual welding - the make of the power source is irrelevant to the functionality of our residual oxygen measuring devices.
Simple menu navigation
LED display, parameter entry by membrane keyboard
Temperature-controlled zirconium sensor
Measuring cell made of zirconium oxide (main-tenance-free), long service life due to intelligent cell management
Measuring range 5 - 999 ppm O2
Suitable for inert gases and gases with hydrogen content of max. 10 %
Battery-powered oxygen analyser with an operating time of up to 8 hours
Wall wart 110 VAC - 240 VAC, supply voltage 12 V
USB interface for storage of parameter sets
Documentation of residual oxygen value, date, time and name of project
Different interfaces, USB, 0 - 5 VDC, digital
Freely adjustable operating range
Language selection German and English
Memory of the validation process
Visual signal during the measurement when the measuring value is not achieved yet
Robust plastic case with protective rubber frame, external dimensions (L x W x H) 185 x 93 x 36 mm, weight 600 g
Tube set 1 m, including filter and stainless steel probe
Validation certificate
Including transport case